Phillip Sekaquaptewa, Hopi Pueblo Jeweler
---
+ Add Artist to My Preferences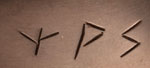 Hopi Pueblo artist Phillip Sekaquaptewa, or Weseoma, was Eagle Clan and was actively making jewelry circa 1973-2003. He is known for his gold and silver overlay, appliqué, tufa cast jewelry. Weseoma lived in Hotevilla, Third Mesa, Hopi Pueblo, Arizona. Weseoma learned his trade from Hopicrafts Cooperative Guild, Second Mesa, Az. Phil's hallmark- eagle track, PS, ca. 1971-87; tadpole, after 1981; Weseoma and tadpole hallmark.
Phil Sekaquaptewa (1948-2003) Weseoma was the grandson of Judge Emory Sekaquaptewa, Sr. and Helen Sekaquaptewa; son of Wayne Sekaquaptewa and Judy Chen Wagner; brother of Kenneth Sekaquaptewa, Harlan Sekaquaptewa, David Sekaquaptewa, Jeannie Groves, Helen Freeman, Patricia Sekaquaptewa, Kimball Sekaquaptewa; father of Caroline Huma, Wayne Perry Sekaquaptewa.
Reference: American Indian Jewelry III: M-Z 2,100 Artist Biographies by Gregory and Angie Yan Schaaf.
Relative Links: Hopi Pueblo, Southwest Indian Jewelry
** If you discover credit omissions or have additional information to add, please let us know at Marketing@adobegallery.com.