Preston Duwyenie, Hopi Pueblo Potter
---
+ Add Artist to My Preferences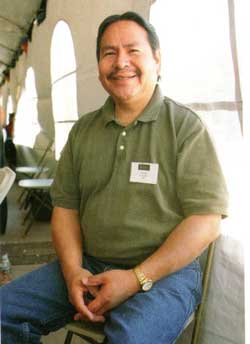 Hopi Pueblo artist Preston Duwyenie is so talented that he can't' be kept into just one medium or artform such as pottery.
Born in 1951 as a member of the Reed Clan, Preston Duwyenie started around 1979 making carvings, sculpture, paintings, graphics, pottery, textiles and jewelry his hallmark is a silhouette of a mother carrying her baby on her back. Preston lives in Hotevilla, Third Mesa, AZ and Espanola, NM.
Preston Duwyenie is the grandson of Thomas and Belle Kuyiyesva, Andrew Duwyenie and Sarah Duwyenie; son of Hubbell Duwyenie and Edith Kuyiyesva; Bother of Gabriel Duwyenie Elaine Steele, Vaughn Duwyenie, Michael Dwyenie, Jimmy Duwyenie, Diane Duwyenie, thomas Duwyenie; husband of Debra Gutierrez Duwyenie of Santa Clara Pueblo.
"Although my art has broadened through educational opportunities, I have not lost the ambition to represent my heritage. Hopi people have produced some of the finest aesthetic in the country, this tradition, to a great extent, motivates what I do. In my art, spirituality weighs heavily in both content and style. My aim is to bring the best form my multicultural influences into this society. I would like to help others gain an appreciation of Native American cultures and at the same time, expose Native Americans to international Modernism. I feel the need to challenge the established world of art and ultimately to make unique contributions. Above all, I want to encourage cultural innovation, offering alternatives in artistic expression through experimentation in various techniques and mediums."
Reference: Hopi Katsina: 1,600 Artist Biographies by Gregory and Angie Schaaf. Artist image courtesy Gregory Schaaf.
Relative Links: Hopi Pueblo, paintings, pottery, textiles jewelry Andrew Duwyenie, Santa Clara Pueblo.
** If you discover credit omissions or have additional information to add, please let us know at Marketing adobegallery.com.