Preston Monongye, Hopi Pueblo Jeweler
---
+ Add Artist to My Preferences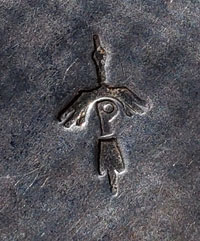 "Preston Monongye's jewelry is among the most sought after and highly valued of all Native American jewelry, rivaled only by his neighbor Charles Loloma, Lee Yazzie, and a small circle of other top artists.
"His birth in 1927 remains shrouded in mystery. In 1934 during the Great Depression, his birth mother, reportedly a California Mission Indian woman from Los Angeles, visited the Hopi village of Hotevilla on Third Mesa. For some unknown reason, she left little Preston with a powerful Hopi Wutsim Priest, David Monongye, and his wife Nora. They adopted Preston and raised him as a Hopi. Grandfather David once explained to me. 'Hopi is a philosophy, a way of life, meaning the 'People of Peace.' You may be red, white, yellow, or black-it doesn't matter-if you're 'Person of Peace'-you're Hopi. In this spirit, Preston was raised in a very traditional Hopi family who were fine artists: jewelers, textiles weavers, basketmakers, and wood carvers.
In 1934, at the age of seven, Preston Monongye moved from Los Angeles to Hopi Pueblo. His father was Hispanic. His mother was a California Mission Indian. A Hopi family from Hotevilla, AZ, Nora and David Monongye, highly respected traditional elders, adopted him. Living in Hopi Pueblo was a dramatic change from being in urban LA during the great Depression. They supported themselves by growing vegetable gardens. Young Preston was introduced to the world of Kachina and ceremonial dancers, which had a profound influence on his art. By age nine, he became an apprentice to his uncle, Gene Pooyama, a master silversmith, and painter. Preston also learned much about traditional Hopi lifeways. For a decade he enjoyed this peaceful way of life.
"As a child, Katsinas gave little Preston a bow, arrows, and a lightning stick, like other Hopi boys. Preston was initiated into the Hopi Katsina Society. While sitting in Grandfather David's kiva, he learned to carve and weave by watching Hopi priests. Preston was nine when he helped Grandfather David melt silver coins to make jewelry. He learned traditional techniques of Hopi silversmiths practiced by David and their neighbors, Ralph Tawangyawma, Dan Katchongva, and Allen Pooyouma. They were known for silver ingot, hand wrought, heavy stampwork and twist wire jewelry set with high quality, natural turquoise.
Preston emerged in the mid-60s and 70s as a top designer of what he dubbed, "The New Jewelry." Preston made many contributions to the Indian art world. In 1970, he served on the Board of the Inter-tribal Indian Ceremonial in Gallup, NM He lectured widely at schools, organizations, and conferences. Preston won many awards at Indian art shows. Lee Yazzie, the respected Navajo Jeweler, and collaborator with Preston, concluded: "Preston was a true artist."
As a teenager, Preston left Hopi Pueblo to serve in the US military during World War II and was a Paratrooper and served as a medic in the South Pacific. Later he served in Korea.
"Preston's uncle, Gene Pooyouma, devoted the most time to helping him to make his first jewelry." Preston, born in 1927, died in 1991 at the age of 64 years.
---
Reference: American Indian Jewelry III: M-Z, 2,100 Artist Biographies by Gregory Schaaf assisted by Angie Yan Schaaf, 2013
Relative Links: Hopi Pueblo, Southwest Indian Jewelry
** If you discover credit omissions or have additional information to add, please let us know at Marketing@adobegallery.com.