Quincy Tahoma, Diné of the Navajo Nation Painter
---
+ Add Artist to My Preferences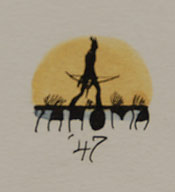 Navajo artist Quincy Tahoma painted a wide variety of subject matter but was perhaps best known for his dynamic action filled paintings. He also painted pictures full of humor. His signature included a vignette, a miniature scene which depicted what happened after the action in the painting. - Lester 1995
While at Santa Fe Indian School, Quincy Tahoma (1917-1956) Water Edge (Near Water) developed his unique painting style. He was active in sports and set a district track record in 1940. After WWII, he established himself as a full-time artist and shared his studios in the Southwest with artists who are now well established. Tahoma's native name, Water Edge or Near Water, is not a translation of his Diné name but is the name of his mother's clan. Tahoma died a tragic accidental death at a young age.
Clara Lee Tanner rightly said he was "...one of the most dynamic, imaginative, and gifted of Southwest artists." During most of his life, he experienced misfortune, and died at the age of [38-39]. - Snodgrass 1968
*Note: Quincy Tahoma, The Life and Legacy of a Navajo Artist by Charnell Havens and Vera Marie Badertscher states his birth year as 1917.
Reference: The Biographical Directory of Native American Painters by Patrick Lester
TAGS: Navajo, Native American Paintings