Rafael Medina, Zia Pueblo Painter
---
+ Add Artist to My Preferences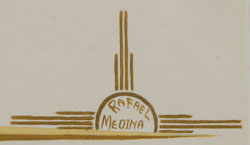 Award winning Zia Pueblo artist Rafael Medina was known for his exceptionally fine and skillfully illustrated paintings depicting ceremonial scenes from his native nation. He was educated at Zia Day School, Zia Pueblo; Albuquerque Indian School and Santa Fe Indian School, where he studied under Velino Shije Herrera, Jose Rey Toledo and Geronima Montoya.
Rafael Medina (1929-1998) Teeyacheena was born at Zia Pueblo and lived in Gallup, New Mexico. According to Medina's son, Marcellus Medina, his father's painting style was mostly the flat traditional style first encouraged by Dorothy Dunn, the influential teacher at the Santa Fe Indian School. Marcellus described other influences on his father's work in a 1995 interview:
"And again, a lot of [painting styles] are brought here and there from other pueblos. And a lot of influences came from the Apaches and the Navajos. The Quincy Tahoma style of the horses, the Navajos riding on horses. My father took some of that style and used it in his own paintings, too. You borrow a little bit here and you borrow a little there, then you put your own ideas, your own talents and whatever personal experience you had as a little boy growing up to a young man, and as an artist you take all that and you put it into the painting. That's how my father taught himself..." (Wyckoff, p. 180)
Medina received a solo exhibition at the Arizona State Museum, University of Arizona, Tucson. Among the awards he earned during his career are: six awards from the annual American Indian Art Exhibition, Wayne State University, Detroit, Michigan; an award from the Heard Museum Guild Indian Fair and Market, Phoenix, Arizona (1969); an award from the Inter-Tribal Indian Ceremonials, Gallup, New Mexico (1970); an award from the Philbrook Art Center Annual Indian Art Exhibition, Tulsa, Oklahoma (1966) and Grand Awards from the same exhibition in 1970 and 1972; and two first prize awards from annual Scottsdale National Indian Art Exhibition, Scottsdale, Arizona (1967 and 1971).
Medina's work is included in numerous public collections, including: Roswell Museum and Art Center, Roswell, New Mexico; Arizona State Museum, University of Arizona, Tucson, Arizona; National Museum of the American Indian, Smithsonian Institution, Washington, D. C.; Museum of Northern Arizona, Flagstaff, Arizona; Museum of New Mexico, Santa Fe, New Mexico; Millicent Rogers Museum, Taos, New Mexico; and Philbrook Museum of Tulsa, Oklahoma.
REFERENCES:
Brody, J. J. Pueblo Indian Painting / Tradition and Modernism in New Mexico, 1900-1930. Santa Fe, NM: School of American Research Press, 1997.
Lester, Patrick D. The Biographical Directory of Native American Painters. Tulsa, OK: SIR Publications, 1995.
Snodgrass, Jeanne O. American Indian Painters: A Biographical Directory. New York, NY: Museum of the American Indian, 1968.
Relative Links: Zia Pueblo, Velino Shije Herrera, Jose Rey Toledo, Geronima Montoya, Apaches, Navajos, Quincy Tahoma, paintings,