Rita Lewis, Cochiti Pueblo Potter
---
+ Add Artist to My Preferences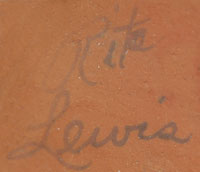 Pottery by Rita Lewis has always been made in true traditional fashion, using Cochiti Pueblo clay, slip, and vegetal paints and firing the pieces outdoors. Her whimsical figurines have always been a favorite of collectors.
When we organized our first storyteller exhibit at Adobe Gallery in Albuquerque in 1979, there were only five potters making these figurines—Helen Cordero, Dorothy Trujillo, Mary Frances Herrera, Seferina Ortiz, and Rita Lewis. Sadly, today, all of these potters are deceased.
Rita Lewis, the daughter of famous potter Ascencion Banada, married Ivan Lewis, son of famous potter Lucy Lewis. Together they started making bowls and animal figurines around 1971, and storyteller figurines around 1973. She was born in 1920 and passed away in 1991.
Reference: Southern Pueblo Pottery: 2,000 Artist Biographies by Gregory Schaaf.
Relative Links: Helen Cordero, Dorothy Trujillo, Mary Frances Herrera, Seferina Ortiz, storyteller, Lucy Lewis, Ivan Lewis, Cochiti Pueblo