Robert Daughters, Western Painter
---
+ Add Artist to My Preferences

Western landscape artist Robert Daughters calls the practice of alternating light and dark colors cloisonne for its resemblance to the ancient Asian enamel technique. Dark lines are used to separate colors, defining landscape form with sharp contrast. He received the 2004 Master's of the Southwest Award from "Phoenix Home and Garden Magazine" and was featured in the March 2004 issue. Daughters has enjoyed a long and distinguished career. For over thirty years he has celebrated the landscapes and cultures of the Southwest in his expressive paintings. Over the years a distinctive style has emerged in Daughters' work: bold brush strokes and combined light and dark colors in compositions that are painstakingly designed and executed.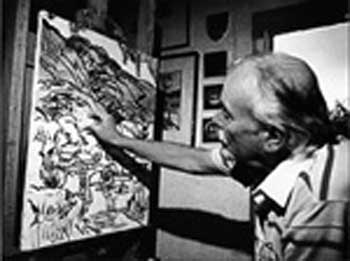 Robert Daughters (1929-2013) was raised in St. Joseph, Missouri. After graduation from high school and three years in the military, he worked as a Curator of Display at the St. Joseph Museum of Natural History while attending the Kansas City Art Institute and School of Design.
During a 1953 visit to Taos New Mexico, Daughters discovered the beauty and light of the area. He and his family made their move to Santa Fe in 1970, then to Taos in 1972. In years prior to moving, he became a partner in a highly successful advertising art studio in Kansas City, Missouri. During those seventeen years, he won numerous awards from the National Society of Art Directors, the Artist Guide, paper companies and other organizations in like fields.
Daughters has been painting the Southwest for many years. He received the "Best of Show" Award, the Governor's Purchase Award, and the Merit Award at the New Mexico State Fair Show in 1972, and since then has participated in one-man, group and exhibition shows throughout the United States. In 1981, he exhibited in "Collection of Art of the West" at the Beijing Exhibition Center in China. In 1995, he was chosen as one of the artists to be featured in "Covering the West - The Best of Southwest Art", a show that featured 60 of the Southwest Art Magazine's 300 cover artists. Daughters was also featured in Southwest Art Magazine's 30th Anniversary issue in May 2004. There have been many articles written on his work in art publications, magazines and books, and he is in "Who's Who in American Art." He was the featured artist in the 1984 New Mexico State Calendar, which reproduced thirteen of his paintings.
Rather than describe himself as an impressionist or expressionist, Daughters says he is a "composist," his term for an artist who creates paintings with color harmony, the contrast of light and dark value and above all, structure. His work is created from photographs, charcoal sketches and small plein-air oil studies. The emphasis is on structure, an orderly arrangement of shapes, tones and atmospheric effect. "The composition always comes first," Daughter says. "I like to have an important visual point; sometimes it's a structure, and sometimes it might be a color." For twenty years he lived in the O.E. Berninghaus home and studio in Taos. Now, much of the artist's time is spent at his home in the Catalina foothills near Tucson, Arizona.
---
Text Source: Kent Whipple, Art Professional
Artist Image Source: Public Domain, may be subject to copyright.
Relative Links: Taos New Mexico, Santa Fe, Western Art
** If you discover credit omissions or have additional information to add, please let us know at Marketing adobegallery.com.