Rose Cata Gonzales, San Ildefonso Pueblo Potter
---
+ Add Artist to My Preferences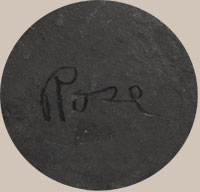 In the 1920s, San Ildefonso Pueblo artist Rose Gonzales learned first how to make polished blackware pottery. She then learned the new technique of black-on-black pottery, using a matte black paint for designs. Rose also learned the older technique of black-on-red pottery, most associated with Tonita Martinez Roybal (1892-1945) Antonita and her mother. Rose was credited as the innovator of deep carved pottery around 1930 at San Ildefonso. Rose Gonzales sometimes collaborated with her son, Tse-Pé, especially in duotones.
Rose Cata Gonzales (1900-1989) was originally from Ohkay Owingeh (San Juan) Pueblo and married into San Ildefonso Pueblo. Rose was a sister of Pomasena Sanchez; wife of Robert Gonzales; mother of Jose H. Rainbird Gonzales; Tse-Pé, Marie Gonzales Yazzie; Rose learned pottery making from Ramona Sanchez Gonzales, her mother-in-law. Rose's parents died from the swine flu epidemic, leaving Rose and her sister, Pomasena, orphans. The girls survived by staying at the Santa Fe Indian School. An elder woman relative, Mary Cata adopted the girls and took care of them.
Rose signed her pottery in different ways: Rose Cata, Rose Cata Gonzales, and Rosa Gonzales.
Reference: Pueblo Indian Pottery: 750 Artist Biographies by Gregory Schaaf.
TAGS: Ohkay Owingeh - San Juan Pueblo, San Ildefonso Pueblo, Marie Gonzales Yazzie, pottery, Ramona Sanchez Gonzales, Tonita Roybal, Tse-Pé