Sharon Naranjo Garcia, Santa Clara Potter
---
+ Add Artist to My Preferences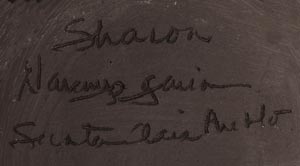 Santa Clara Pueblo artist Sharon Naranjo Garcia is known for her amazing pottery creations. Many of today's Pueblo potters began working with clay while incredibly young. Most learned the art of making pottery from an adult female family member. Sharon Naranjo Garcia is no exception and had great role models to learn from.
Sharon Naranjo Garcia (1951- ) was raised by her famous grandmother, Christina Naranjo, and began making small animals using her grandmother's clay. From there, she developed into a full-fledged potter. Although she has lived at Ohkay Owingeh (San Juan Pueblo) since her marriage many years ago, she still makes pottery in the Santa Clara Pueblo style.
References and Artist Image Source: Pueblo Indian Pottery: 750 Artist Biographies by Gregory Schaaf. Artist Image by Dr. Neil Chapman, courtesy of Gregory Schaaf.
TAGS: Santa Clara Pueblo, Christina Naranjo, Ohkay Owingeh Pueblo