Stella Teller, Isleta Pueblo Potter
---
+ Add Artist to My Preferences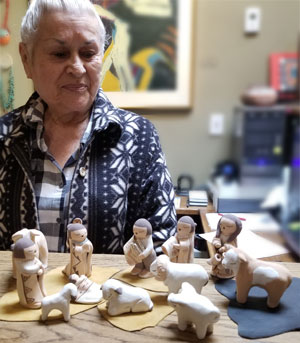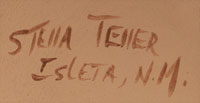 Award-winning artist Stella Teller has enjoyed a long career of making pottery figurines in her studio at Isleta Pueblo. She follows a family tradition of potters, as her great-grandmother Marcellina Jojola, her grandmother Emeklia Lente Carpio, and her mother Felicita Jojola were all pottery makers. Teller began working in clay at the age of eight, helping her mother slip and polish small pots.
Stella J. Teller (1929- ) has a long career of making storyteller and nacimiento figurines and has consistently won prizes for them since she made her first one in 1978—the same year Adobe Gallery opened its doors in Albuquerque. Her pottery is distinguished from traditional Isleta Polychrome wares by its distinctive colors, which she says are all natural. The light gray, which has become her trademark, is produced by mixing white clay with manganese. She was one of the first potters to insert turquoise cabs into the clay. Not to be considered parochial, Stella Teller expanded the repertoire to include storyteller figurines representing Navajo, Isleta Pueblo, Apache and Hopi males and females. She is credited with making the first storyteller to represent a Navajo.
One of Stella's earlier pieces was part of the Smithsonian Institute's traveling exhibit in 1987. She is also represented in museums and galleries in California, Arizona, Texas, Colorado, Wyoming, Pennsylvania, New Jersey, Massachusetts, and New Mexico. She is the mother of four daughters (Chris, Mona, Robin and Lynette Teller), all of whom are successful potters.
---
Image of Stella Teller: copyright Adobe Gallery.
TAGS: figurines, Isleta Pueblo, pottery, Navajo, Apache, Hopi, Chris, Mona, Robin