Tom Yazzie, Navajo Nation Carver
---
+ Add Artist to My Preferences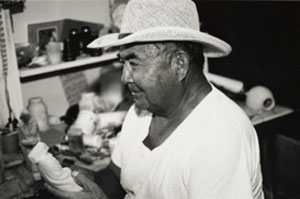 Diné artist Tom Yazzie of the Navajo Nation has been carving figurines from wood since he was a youngster, but his most productive years were between 1957 and 1963. It was during this period that he became famous for his carvings of Navajo ceremonial life. He carved scenes from ceremonies associated with Night Chant, Mountain Way, Enemy Way, and other ceremonial rituals.
It was about 1964 when he carved his first Nacimiento. His first four sets won accolades unexpected to Yazzie. One was exhibited at the Wheelwright Museum in Santa Fe, one became part of the permanent collection of the Navajo Tribal Museum in Window Rock, one took a Second Award at the 1968 Scottsdale National Indian Arts Exhibition, and one took a First Award at the 1978 Inter-tribal Indian Ceremonial in Gallup.
Adobe Gallery purchased at least one set from Tom each year from about 1980 until 2000, when we lost contact with him.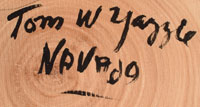 Tom Yazzie (1930-2019) served in the U.S. Army between 1947 and 1954. During his off hours, he revived a childhood hobby by using his army-issue bayonet to carve wood. When he returned from Europe his friends encouraged him to begin carving seriously. The inspiration for Yazzie's works depicting Navajo life and ceremonies comes from his brother, a medicine man. He usually carves groups of people and dancers and adds found objects such as feathers and small stones to make them realistic. (Chuck and Jan Rosenak, The People Speak: Navajo Folk Art, 1994)
Tom Yazzie Image Source: Smithsonian American Art Museum – Renwick Gallery website.
** If you discover credit omissions or have additional information to add, please let us know at Marketing@adobegallery.com.