Tonita Vigil Peña, Quah Ah, San Ildefonso Pueblo Painter
---
+ Add Artist to My Preferences
Tonita Peña was the only woman in the group of talented early pueblo artists referred to as The San Ildefonso Self-Taught Group. The famous group included such noted artists as Julian Martinez, Alfonso Roybal, Abel Sanchez, Crecencio Martinez, and Encarnación Peña.
Tonita Vigil Peña (1893-1949), whose Indian name was Quah Ah, was born in the tiny New Mexico pueblo of San Ildefonso on the Rio Grande, just north of Santa Fe. At about the age of 12, her mother passed away and her father, unable to raise her and tend his fields and pueblo responsibilities, took her to live with her aunt and uncle at Cochiti Pueblo, where she spent the remainder of her life.
By the time Tonita was 25 years old, she was a successful easel artist, and her work was being shown in museum exhibitions and in commercial art galleries in Santa Fe and Albuquerque. She painted what she knew best - scenes of life at the pueblo - mostly ceremonial dances and everyday events. She is still considered one of the best female Indian artists of all time.
Tonita was very ingenious in the way she signed her paintings. After extensive and careful study of over one hundred of her paintings, it is possible to date several her paintings, within reason, by the way they were signed.
Joe Herrera has stated that when his mother first started painting, she signed all her paintings with her Indian name

This lasted until sometime in 1915. A variation of this signature occurred shortly before or at the time Tonita became pregnant with her second son, Joe H. Herrera, probably in 1917 or 1918. She then modified

and used the signature

separating and capitalizing the H in her first name, in honor of her second husband, Felipe Herrera. This was used until the death of Felipe Herrera in 1920. These signatures are rare as Tonita did not paint much at that time.
She began to use her baptismal name,

sometimes alone, sometimes with the pueblo name, and sometimes embellished with a decorative motif. She continued using this until she met Epitacio Arquero in about 1921.
She then used both names in her signatures, one name above the other: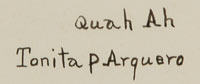 A very few of Tonita's works painted in 1922 and 1923 were signed

in honor of her husband, Epitacio Arquero. These signatures are also quite rare.
In the early 1930s Tonita began using small combinations of cloud, rain, and storm motifs in conjunction with her name or names, sometimes using the names with the motifs. These became more intricate and complicated in design as time went on, and were used until her death. Remarkably, Tonita never repeated the same design, but always used a different combination on each painting.
Excerpted from: Tonita Peña by Samuel L. Gray,

1990. Avanyu Publishing (Alexander E. Anthony, Jr.), Santa Fe, New Mexico.
Relative Links: San Ildefonso, Santa Fe, Cochiti Pueblo, Julian Martinez, Alfonso Roybal, Abel Sanchez, Crecencio Martinez, Encarnación Peña, Albuquerque, paintings, Joe Herrera
** If you discover credit omissions or have additional information to add, please let us know at Marketing@adobegallery.com.