Tonita Martinez Roybal (1892-1945) and Juan Cruz Roybal (1896-1990)
---
+ Add Artist to My Preferences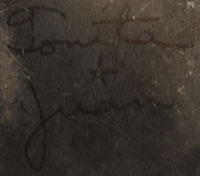 Tonita Martinez Roybal (1892-1945) and Juan Cruz Roybal (1896-1990) of San Ildefonso Pueblo, signed their pottery Tonita & Juan. Tonita had married Juan in 1916.
Tonita has been called one of the finest potters at San Ildefonso Pueblo. She was easily equated to Maria Martinez. Tonita consistently produced the finest blackware, with high burnish, deep color, and impeccable construction.
Santa Fe dealer and collector, Richard M. Howard, was probably the single-most enthusiastic admirer of pottery by Tonita Roybal. He believed she was probably the finest potter at San Ildefonso in the first half of the 20th century but was overshadowed by fame bestowed on Marie Martinez. Over a number of years, he put together a collection of perhaps a hundred pottery vessels by Tonita and his collection was displayed and sold by Nedra Matteucci Galleries in Santa Fe in 2007 just shortly before Mr. Howard passed away.
** If you discover credit omissions or have additional information to add, please let us know at Marketing@adobegallery.com.