Ma Pe Wi, Velino Shije Herrera, Zia Pueblo Painter
---
+ Add Artist to My Preferences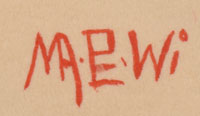 Zia Pueblo self-taught artist Ma Pe Wi successfully combined Realism with Abstract painting, often in the same painting. Prior to his employment by the School of American Research, Superintendent and Mrs. J. D. De Huff, at the Santa Fe Indian School, encouraged Ma Pe Wi in his art efforts. Although there was no formal art instruction at the Santa Fe Indian School in the early 1920s, the children were given supplies and allowed to paint what they wished.
Born at Zia Pueblo in 1902 and died in Santa Fe, NM in 1973, Velino Shije Herrera was a member of the Zia Pueblo Tribe and his Indian name was Ma Pe Wi which means Oriole.He began painting at the Santa Fe Indian School in 1917. He, along with Awa Tsireh and Fred Kabotie, were encouraged to paint while employed by the School of American Research in Santa Fe, New Mexico. They were allowed to paint two to three hours a day and were not subjected to any white or nonnative influences whatsoever.
Velino Shije Herrera (1902-1973) Ma Pe Wi - Oriole had an elementary education, but no formal art training. Proud of the fact that he was self-taught (and justly so) he became a leader in the whole Rio Grande movement in developing this native art.
Relative Links: Zia Pueblo, Awa Tsireh, Fred Kabotie, Native American Paintings
** If you discover credit omissions or have additional information to add, please let us know at Marketing@adobegallery.com.