Albert Harjo (1937 - ) Creek Nation
---
+ Add Artist to My Preferences
Albert Harjo was born on September 25, 1937, deep within the Muscogee (Creek) Nation in the rural area of Hanna, Oklahoma. He is full-blood Muscogee. He attended Jones Academy, Hartshorne, Oklahoma, then later Chilocco Indian Agricultural School, just north of Ponca City, Oklahoma. After graduating from Chilocco, he enlisted and served in the United States Marine Corps.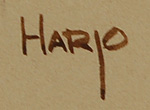 Harjo's subject matter derives from his own life experiences as well as those of neighbors, friends, and family. He painted in the very unforgiving style considered by most disciples of Native American art as traditional or Bacone style, as established by tribal artists active at Bacone College. There is no erasing or covering up. His paintings use colors and multiple contour lines to define figures and shapes, as opposed to three-dimensional perspective or shading. He worked in tempera and watercolor.
His work has been shown at the Five Civilized Tribes Museum, Red Earth, the Creek Indian Council House and Museum, and the Philbrook Museum of Art. He donated his art work for causes such as the Red Cross and Native American bone marrow recruitment. His award-winning, traditional art can be found in museums, galleries and private collections throughout Eastern Oklahoma, United States and abroad. Wikipedia
** If you discover credit omissions or have additional information to add, please let us know at Marketing adobegallery.com.