Bernard Dawahoya, Hopi Pueblo Silversmith
---
+ Add Artist to My Preferences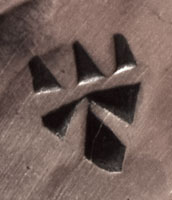 Award winning Hopi Pueblo artist Bernard Dawahoya learned to make jewelry from his uncles, Washington Talayumptewa and Sidney Sekakuku. Bernard recalled that he was about 15 years old when he was working at his Uncle Sidney Sekakuku's sheep camp and was caught playing with his jewelry-making tools, so his uncle began teaching Bernard jewelry making at that time.
Bernard Dawahoya also took classes at the Hopi Silvercraft Cooperative Guild. He and Eldon James worked for Wayne and Emory Sekaquaptewa, making jewelry at their Hopi Enterprise Shop in Phoenix. In 1961, he worked in Kykotsmovi at their Hopicrafts shop. Their display room was re-located in 1971 to the Hopi Cultural Center. Bernard eventually re-settled in Shungopavi, creating his own shop, while exhibiting at arts and crafts shows. Schaaf 2003
Bernard Dawahoya (b.1935-) Masqueva - Little Sun has won numerous awards since 1971 for his silver overlay jewelry, boxes, bowls, textiles, paintings, Katsina dolls and leatherwork. He is an exceptionally talented artist in many mediums. He is included in the collection of the Peabody Museum at Harvard University and many private collections.
Relative Links: Native American Jewelry, Hopi Pueblo, textiles, paintings, Katsina dolls