Cecil Dick (1915-1992) Dá-Ga-Dah-Ga Standing Alone
---
+ Add Artist to My Preferences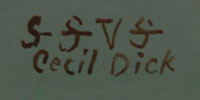 As a small child, Cecil Dick (1915-1992) Dá-Ga-Dah-Ga Standing Alone spoke only Cherokee. He was orphaned at age 12 and reared in Indian boarding schools. He was considered an authority on Cherokee mythology and the Cherokee written language. He attended the Santa Fe Indian School for one year, did not like the school's flat painting style, and chose to paint in the Woodlands style with the plants, trees, and hills that were part of his Woodlands experience. He was allowed to do so. After one year in Santa Fe, he returned to Oklahoma.
Cecil Dick did not paint on a regular basis at any time during his career. He painted when he felt like doing so and, as a result, his work is relatively rare. He also worked as a sign painter and a draftsman, another reason for not executing many art paintings.
The Cherokee National Museum in Tahlequah honored his work with a 50-year retrospective in 1983. The same year, he received the tribe's highest honor, the Cherokee Nation's Heritage Award, also known as the Sequoyah Medal. He was the third person to receive the award.