Chavis Elliott, Diné Jeweler
---
+ Add Artist to My Preferences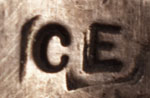 Diné of the Navajo Nation artist Chavis Elliott Is known for his silver and turquoise jewelry. He created beautiful jewelry circa 1950s to 1980s based on our experience with his work.
Chavis Elliott is listed in books on silversmiths but there is no information regarding the artist in those publications. Both publications provide his name and that he signs his work with his initials CE.
We may not have access to published information about the jeweler, but we can say with confidence that he is an accomplished jeweler who selects outstanding turquoise and provides us with beautiful silverwork.
TAGS: Jewelry Ring, Navajo Nation, Southwest Indian Jewelry