Diane O'Leary (1935 – 2013) Opeche-Nah-Se
---
+ Add Artist to My Preferences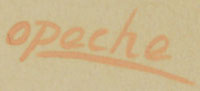 Diane O'Leary (1935 – 2013) Opeche-Nah-Se developed into an amazing artist. She was an academic wonder—achieving a BA, BS and MS from Texas Christian University, an MS from Harvard and an MA, MFA, & PhD from Stanford. Somewhere along the way she had attended Bacone College too. She had planned a career in physics but instead dedicated her life to art and as an activist for the dignity and equality of women.
O'Leary's father was Irish and her mother a member of the Comanche Tribe. She moved to Taos, New Mexico, in 1967 at a time when interest in American Indian art was beginning to blossom. She studied under painters Eric Gibberd and Emil Bisttram at Taos. She knew Georgia O'Keefe and received occasional criticisms from the artist.
O'Leary is represented in many major museums and private collections, among them Berne, Switzerland; Denver Art Museum, Guggenheim Museum in New York, Heard Museum in Phoenix, Museum of the American Indian, Millicent Rogers in Taos, Philbrook in Tulsa, Peabody at Harvard. Stanford University and the Wheelwright in Santa Fe, as well as other museums, corporate and private collections. Her paintings are cherished by collectors.