Gustave Baumann, Western Artist and Printmaker
---
+ Add Artist to My Preferences

Gustave Baumann is best known for prints made from his detailed hand-carved wood blocks. He created colored wood blocks from which he made prints and became a carver of saints and marionettes while working the Marionette Theater. He also did numerous paintings in bright colors. His woodcut subjects are church figures, scenes of sacred Indian pictographs, and landscapes including the Grand Canyon.
Gustave Baumann and several other artists decided to see firsthand the reportedly light, clear air of New Mexico that they had been hearing about from other Chicago artists, and in 1918, he settled in Santa Fe where, for over fifty years, he participated in the art community. During the 1930s, he was *WPA coordinator for Santa Fe.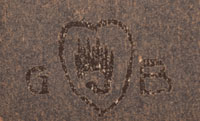 Gustave Baumann (1881-1971) was born in Madgeburg, Germany. His family immigrated to the United States when he was a child, and he grew up in Chicago. He returned to Germany to study in Munich at the Kunstgewerbe Schule and then took further training at the Art Institute of Chicago. He spent time in Indiana and is much associated with the artists who gravitated to Brown County. In that state, Bauman made woodblocks illustrating work by Indiana authors.
Source: Peggy and Harold Samuels, Encyclopedia of Artists of the American West
*The Works Progress Administration (WPA; renamed in 1939 as the Work Projects Administration) was an American New Deal agency, employing millions of jobseekers (mostly unskilled men) to carry out public works projects, including the construction of public buildings and roads. It was established on May 6, 1935, by Executive Order. In one project, Federal Project Number One, the WPA employed musicians, artists, writers, actors and directors in large arts, drama, media, and literacy projects. Wikipedia
Recommended Reading: Gustave Baumann: Nearer to Art by Martin F. Krause
Relative Links: Fine Art Prints, Santa Fe
** If you discover credit omissions or have additional information to add, please let us know at Marketing adobegallery.com.