Hector Aguilar, Mexican Silversmith
---
+ Add Artist to My Preferences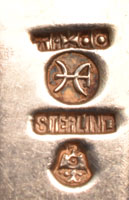 Mexican silversmith artist Hector Aguilar began his career at age 30 working for William Spratling as his shop manager. After three years as an apprentice, Mr. Aguilar opened his own workshop in 1939. One of his supporters was Valentine Viduarreta, who was a talented designer who mentored Aguilar with many of his earlier designs.
Aguilar profited greatly during World War II, when silver was in short supply in the United States, by making silver jewelry for an American jewelry firm. This continued until 1950, by which time Aguilar was well established financially and artistically. He became one of the premier silver outlets in Taxco, Mexico, for quality jewelry, flatware, and other silver creations. His firm prospered until its closure in 1986.
Hector Hector Aguilar's shop mark is stamped on the back of the handle. It starts with TAXCO, followed by his initials in script form, HA, followed by STERLING and then the number 9 over the body of an eagle.