Ike Wilson, Navajo Jeweler
---
+ Add Artist to My Preferences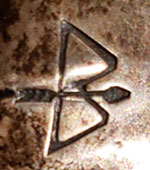 Diné silversmith Ike Wilson worked for many years for the Kelsey Trading Company at Zuni. He did silverwork for many of the Zuni lapidary artists including Ida Vacit Poblano. He often collaborated with his wife, Katherine Wilson.
Navajo Nation artist Ike Wilson (1900-1942) would sign his creations with his bow and arrow hallmark.
There has been some confusion in the past about the hallmark of Ike Wilson (1901-1942). It seems that sometimes his work was attributed to Austin Wilson. Both men were born in the same year and in a similar area of the reservation and both men worked at times for trader C. G. Wallace and the Kelsey Trading Company. Ike Wilson's work is signed with a bow and arrow. After his death in 1942, his wife Katherine Wilson (1907-1985) continued to use his hallmark. The bow and arrow hallmark was initially attributed to Ike's contemporary, Austin Wilson, but the corrected attribution was published in Messier, 2014.