James Wayne Yazzie, Navajo Painter
---
+ Add Artist to My Preferences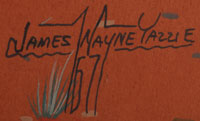 [Navajo artist] James Yazzie genre ... is unusual in that he depicts dramatic events such as a Navajo ceremonial dance where the actors are central but minor in the widening circles of spectators in a landscape. (Samuels, 1985)
James Wayne Yazzie [1943-1969] was a "gifted and independent primitive" (Dunn 1968) who produced large arresting native scenes of the Navajo. Although self-taught, Yazzie used the Santa Fe Indian School Studio style in his art. His use of flatly applied color areas and pastel hues are mistakenly derived from the early works of Harrison Begay and Gerald Nailor, but he was more concerned with specific time, place and circumstances rather than with an imagined idealization. (Brody, 1971).
"James Wayne Yazzie, born in 1943, painted in water media and oils. Frequently there are many figures in a single painting. Frequently, too, there are touches of humor, such as a Navajo girl pulling a man out to dance with her, or where a woman in the foreground is pouring a dipper of water over a sleeping tribesman. Yazzie was killed in a train accident in 1969." (Tanner, 1973)
Brody, J. J. Indian Painters & White Patrons, UNM Press, Albuquerque, 1971.
Dunn, Dorothy. American Indian Painting of the Southwest and Plains Areas, 1968
Lester, Patrick D. The Biographical Directory of Native American Painters, 1995
Samuels, Peggy & Harold. Samuels' Encyclopedia of Artists of the American West, 1985
Tanner, Clara Lee. Southwest Indian Painting, a Changing Art, 1973.
Relative Links: Native American Painting, Navajo, Harrison Begay, Gerald Nailor
** If you discover credit omissions or have additional information to add, please let us know at Marketing@adobegallery.com.