Lloyd and Jennie Salvador, Zuni Pueblo Jewelers
---
+ Add Artist to My Preferences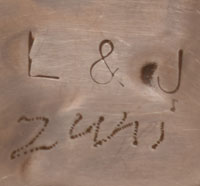 Almost every family at Zuni Pueblo has someone involved in the artistic creation of jewelry including Lloyd and Jennie Salvador.
Zuni craftsmen have been creating wearable art using turquoise, shell and other natural materials for thousands of years. The lives of the Zuni people and other Southwest tribes changed drastically in the late 19th century with the arrival of the Atchison, Topeka and Santa Fe Railroad. While most Zunis continued to follow traditional practices of irrigated agriculture and raising livestock, the establishment of the railroad and the advent of trading posts created new economic activities. The most lucrative of these activities was jewelry manufacturing and the sale of the jewelry and other crafts to tourists traveling on the railroad and later, on Route 66.
One of the major influencers of jewelry styles and designs was trader C.G. Wallace. Wallace employed silversmiths and lapidary artists, provided the tools and supplies to the craftspeople and marketed the material to non-Native clients along the railroad and highways of the Southwest. Wallace influenced the style of the jewelry by suggesting specific elements and designs and purchasing pieces that fit his requirements. Today, the production of jewelry is a major economic activity at Zuni. Almost every family at Zuni has someone involved in the artistic creation of jewelry.
They sign their jewleer with their artists' hallmark of L & J, Zuni.
Relative Links: Southwest Indian Jewelry, Zuni Pueblo, Bracelets