Mitchell Calabaza, Kewa Pueblo Jeweler
---
+ Add Artist to My Preferences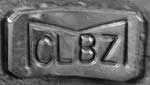 Award winning Kewa Pueblo artist Mitchell Calabaza has been making excellent Southwest Indian Jewelry since the 1970s.
Residents of Kewa Pueblo have taken advantage of their proximity to trade routes since ancient times to sell their handmade jewelry and pottery. Before the Spanish arrived in 1540, they were actively involved in the trade of turquoise mined at the nearby Cerrillos mine. When the Spanish established the Camino Real, the trade route that connected Mexico City with Santa Fe, Kewa Pueblo was one of the stopping points along the way. In the early 20th Century, both the railroad and Route 66 traversed the Pueblo. This has given artists a venue to sell their wares and allowed them to maintain their traditional religious practices and social structure. Almost every family has at least one member involved in the production of jewelry making.
Calabaza was born in 1949 and lives at Kewa Pueblo today (formerly known as Santo Domingo Pueblo). He is married to Marie Christine Trujillo. He has been an award winner at Santa Fe Indian Market and has exhibited there and at Eight Northern Pueblos Arts & Crafts Show and at the Museum of New Mexico portal display site in Santa Fe. The artist's hallmark is made up of the letters CLBZ under a large M which was first used by him in 1977.
Relative Links: Southwest Indian Jewelry, Kewa Pueblo