Randy Lee White, Western Painter
---
+ Add Artist to My Preferences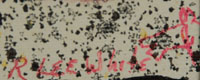 Randy Lee (White Horse) [b.1951 - ] White is active/lives in Texas. Randy White is known for pseudo pictographs, mixed-media abstraction, posed as Indian. Artist Randy Lee White, who called himself White Horse, claimed to be a member of the Sioux tribe in South Dakota [to sell paintings for a higher price]. It was ultimately revealed that Mr. White was a Texan with no Indian blood. The new law would provide for criminal prosecutions in such cases. Law on Sacred Objects. - askART
---
"[Randy Lee] White is an expert on many subjects, both related to his heritage as a South Dakota Lower Brule Sioux, and to his affinity for pictographs as an art form and medium for relating history.
"Although White (born Whitehorse, but the artist dropped the "horse" as many Native Americans in his generation do) uses a variety of media in his art, the constant ingredient in his works is the use of pictographs to tell a story and to enlighten the viewer. White's goals and aspirations for his art are ambitious. He wants to educate, enlighten, entertain, and keep the art form of pictographs alive for future generations.
"His paintings tell of tension and struggle; the tension between life and death, Indian versus white, fate versus knowledge of fate. White currently lives in Questa, New Mexico, a community possessing many different cultural bodies. In this type of culture within a culture, White feels that he is judged on the fruits of his labor and not on his ethnic heritage. As is the case with many artists of minority culture, White does not want to be labeled and pigeonholed with a culturally-tied title, such as "Native American painter." This is especially important for White, since he is only half Native American. His father was French. He wants to be considered on the merits of his work, not by his heritage.
"Even though White has noble intentions of being considered an artist first and a Native American second, his work is overwhelmingly cultural in nature. White wants to convey how proud he is of his past, and his ancestors, but at the same time in a way that is not condescending or segregating to any other culture. He accomplishes this through wordless messages and stories, some of them true history while others are long-told fables."
Source: Butler Institute of American Art