Roland and Julie Lementino, Zuni Pueblo Jewelers
---
+ Add Artist to My Preferences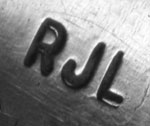 Zuni Pueblo artists Roland Lementino and Julie Lementino specialized in fine lapidary work with small gemstones to create works of jewelry art.
Zuni artisans have been working with small gemstones to create works of art since prehistoric times. Archeological digs at nearby Chaco Canyon uncovered works of art made from turquoise. Over the years, archaeologists have found more than 200,000 turquoise pieces at various sites in the Chaco Canyon area. Archeologists theorize that Chaco Canyon was a distribution center for turquoise. Roads led out of Chaco heading north to Mesa Verde and south towards Mexico. It is believed traders traveled these ancient highways bringing turquoise to the Valley of Mexico, California and beyond. In the late 19th Century, the Zuni learned how to work silver from their Navajo neighbors. It is no surprise the Zuni combined their skill in lapidary work with silver. One early style was petit-point jewelry. The Zuni petit-point and needlepoint styles got their name from the fine embroidery work that was popular at the beginning of the 20th Century.
Roland (1922-2001) and Julie Lementino were a husband and wife team who worked out of Zuni Pueblo beginning in the 1940s. Their hallmark RJL is stamped inside their jewelry creations.