Rookwood Pottery of Cincinnati - Unknown Artisan
---
+ Add Artist to My Preferences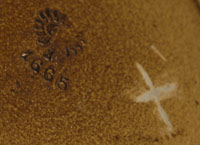 "Rookwood Pottery of Cincinnati was the first to gain artistic recognition and respect for the United States. In 1889, Rookwood was awarded the First Prize Gold Medal at the Paris Exposition Universelle. This was a shock to the international artistic community who had never really paid much attention to American ceramics. In less than a decade after starting as a hobby pottery shop, Rookwood had grown to become a company with an international reputation for ceramic excellence. This recognition forever changed the way the international community viewed American art.
"In 1876, Maria Longworth from Cincinnati attended the Centennial Exhibition in Philadelphia. With over four hundred countries displaying the finest of their ceramic accomplishments, many thought that the American pieces were inferior. At this time, this perception was not unusual. It was generally thought that American art was hundreds of years behind the rest of the world. Especially in ceramics, American art was considered unrefined, made with little talent or technique.
"Inspired by the Japanese designs she saw in Philadelphia, Maria began to dream of changing that perception. Fortunately, Maria was a woman with aspirations and means. The daughter of real estate millionaire and arts patron Joseph Longworth, Maria asked her father to provide the funds for her own pottery. She believed that the key to creating fine art was to create an environment filled with talent, ideas and inspiration.
"Named after the Longworth family estate in Cincinnati, Rookwood became the first female manufacturing company in the United States. She hired a team of famous artists, talented art students and glaze technicians and encouraged them to exchange ideas. Most importantly, she encouraged her employees to be creative, to try new subjects, new techniques and new mediums. Whatever inspired them to create fine art." Rookwood Pottery website
** If you discover credit omissions or have additional information to add, please let us know at Marketing adobegallery.com.