Rosalie Medina Toribio (ca.1858-1950) Dziyunai'
---
+ Add Artist to My Preferences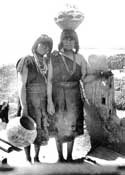 Scholars frequently mention Rosalie Medina Toribio in pre-1940 discussions of Zia Pueblo potters, some commenting that she was great—if not the best potter of Zia. Her descendants and their spouses include several major potters. Matilda Coxe Stevenson took a photograph of her in 1887. She was also photographed by Edward S. Curtis in 1925 for his publication The North American Indian. Both Curtis and Stevenson commented that she was a great potter. Rosalie Medina Toribio was the mother-in-law to Isabel Medina Toribio and helped teach her along with Isabel's mother in pottery making.
Photo: left, Reyes Ansela Shiji Herrera; right, Rosaalia Medina Toribio. Photogragh by Matilda Coxe Stevenson ca. 1887.
Source and Photo: The Pottery of Zia Pueblo by Harlow and Lanmon, 2003.
** If you discover credit omissions or have additional information to add, please let us know at Marketing@adobegallery.com.