Tom Knapp, Western Sculptor
---
+ Add Artist to My Preferences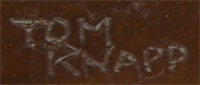 Tom Knapp was a bronze sculptor recording the modern Western scene. He was born in Gillette, Wyoming in 1925 and lived in Ruidoso Downs, New Mexico after 1971. "There's a Western art fad in progress," Knapp declared, "and things that happened 100 years ago are currently being re-examined for use as subject matter. I feel that this is largely wasted effort, After all, such artists are trying to breathe life into something they didn't actually experience."
During his adolescence, a Plains Indian tribe camped near his family's ranch every summer. There were no museums, but Army service during the Korean War exposed him to sculpture and painting shows. After the war, he attended the California College of Arts and Crafts in Oakland and the Art Center School of Design in Los Angeles when he was nearly 30. His first job was as an animation artist for Mountain Bell Telephone Company in Albuquerque. New Mexico. He decided that he would quit Mountain Bell "whenever commissions from sculpture equaled my regular salary." After quitting, he "suddenly realized that self-employment had cut my total income in half." He had been a full-time sculptor since 1969.
Knapp casts his own bronzes in the backyard of his studio, as part of a neighborhood "Pour In" that has been described in New Mexico Magazine. His series of contemporary American Indian ceremonial dancers was featured in Art West, which quotes Knapp as claiming that "vitality, movement, is the most important thing in sculpture, not the detail." His work is in five public collections. He is listed in Who's Who in American Art. - Contemporary Western Artists by Peggy and Harold Samuels. 1982.
---
Bronze sculptor and printmaker Tom Knapp, who spent many years in Lincoln County with his wife and fellow artist, Dorothy Bell, passed away in his home in San Miguel de Allende, Mexico on July 8, 2016. He was 90 years old. - Ruiooso News
** If you discover credit omissions or have additional information to add, please let us know at Marketing@adobegallery.com.
Relative Links: Plains Indian tribe, sculpture, painting, Albuquerque. New Mexico