Vladan Stiha (1908-1992)
---
+ Add Artist to My Preferences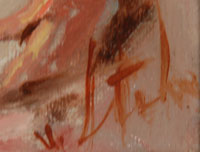 Vladan Stiha (1908-1992) was a gifted impressionist painter who was born in Yugoslavia. He attempted to flee to the United States during World War II, but was denied entry. He moved to Argentina and then Brazil, spending a total of twenty years in South America. It was during this time that came into his own as a painter and developed the colorful impressionistic style for which he would ultimately become very famous.

Stiha's studio was located across the street from the American Embassy in Brazil. He already had a celebrated reputation as an artist and was recognized by personnel at the American Consulate, who offered him American citizenship. He was 62 years of age at the time. Vladan and his wife Elena moved to the West Coast, but ultimately settled in Santa Fe.

The Stihas traveled extensively after moving to Santa Fe, visiting Indian reservations and absorbing the region's rich culture. He then transferred his visual experiences to canvas, and became very well-known for his beautiful impressionist works depicting Southwestern people and landscapes. In 1971, Vladan and Elena opened the Stiha Gallery in the historic La Fonda Hotel. Elena, who had been with Vladan since before he fled Yugoslavia, passed away in 2010 at the age of 105. The Stihas were—and still are—highly regarded by Santa Fe's gallerists and art patrons.