Pieces of the Past: Adobe Gallery's Al Anthony and his passion for Pueblo pottery
Category:
Pottery
| Posted by |
Sat, May 28th 2022, 2:11pm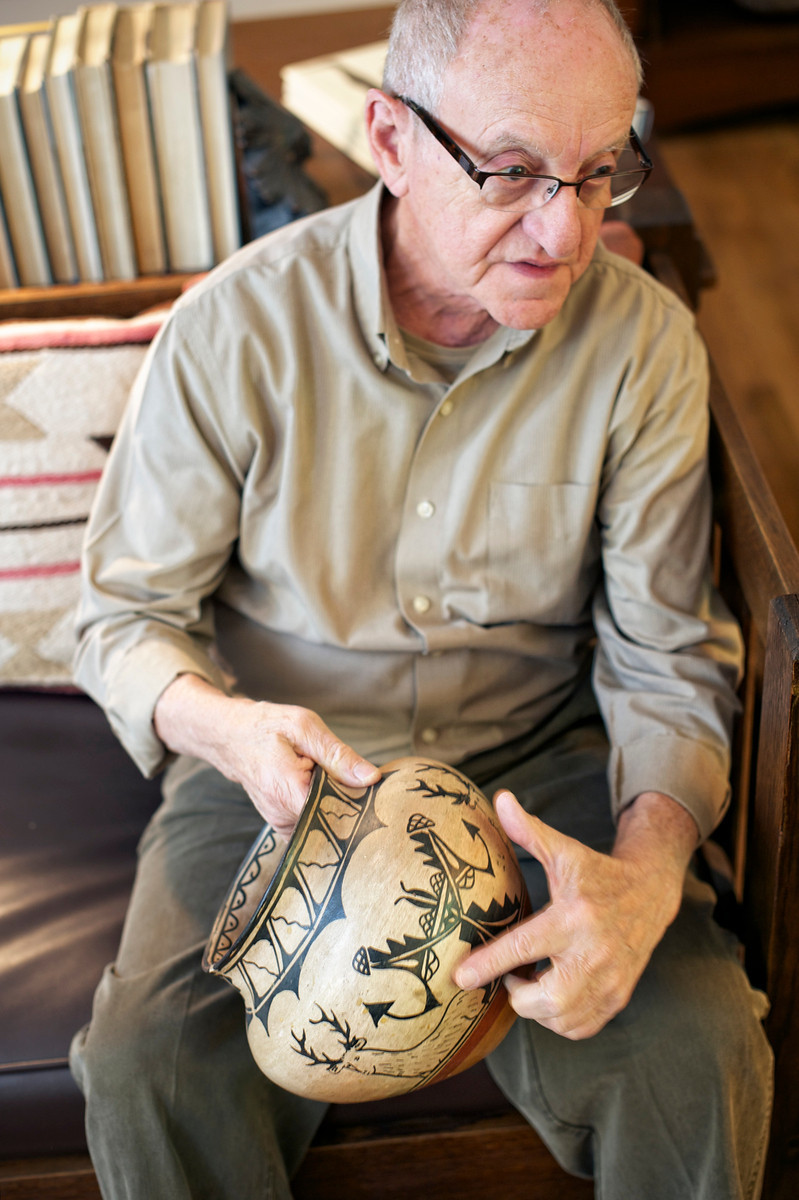 When Al Anthony talks about historic Pueblo pottery, the glow in his eyes suggests the same contained fire that baked so many of his showpieces in the indigenous kilns of the past. He's an ardent fan, and Adobe Gallery-the Canyon Road establishment he opened in 2001, after 23 years of operation in Albuquerque-is something of his shrine. Considered one of Santa Fe's leading Native American art galleries, Adobe is filled with contemporary Pueblo pottery, katsina dolls, baskets, paintings, and many other native objets d'art. But it's the historic Pueblo pottery Anthony loves so much that lends a distinctive archaeological air to the place. Lining shelves and perched on glass cases are weather-worn pots of various shapes and sizes, adorned with patterns and images and the traditional black, white, and burnt umber color scheme. "This pottery is phenomenally beautiful and ethnographically important," Anthony says. "Unlike pottery made to sell, these items were made to be used, and their evidence of use is especially appealing to collectors." Although Anthony's been a fixture on the Native American art scene for 34 years, he had little exposure to art, let alone Southwestern Indian art, for most of his life. Growing up in a small North Carolina town, he joined the U.S. Air Force to become a nuclear engineer. It wasn't until 1957, when he was stationed at Kirtland Air Force Base, that he first set eyes on a Pueblo pot.
"I was wandering around downtown Albuquerque, and in a shop window I saw a black pot that just captivated me," Anthony recalls. Since he couldn't afford the $100 cost outright, the shopkeeper let him make 10 monthly payments of $10 each. Anthony collected for the next 19 years and, in 1978, two years after retiring from the Air Force, he opened Adobe Gallery in Albuquerque's Old Town, selling mostly contemporary pieces. In the mid-1980s, he was offered 13 historic Native pieces and, though he knew little about historic pottery at the time, his interest-and subsequent passion-was ignited. In 2001, Anthony moved shop north to Santa Fe, where he is now a very well respected, self-taught expert in historic Pueblo pottery. While Anthony dealt directly with Pueblo potters when he began his business, often driving out to the Pueblos to buy art, these days he is approached by art sellers on an almost daily basis. Many of his pieces come from the estates of longtime collectors across the country and from those looking to downsize, both of which provide a steady source for historic items. One of his recent acquisitions, a San Ildefonso Pueblo vessel made in 1889, came to Anthony through a phone call from a woman who runs estate sales. About the size of a large beach ball but with the considerably larger price tag of $85,000, the pot's belly features a series of images that tell the story, presumably, of a horse theft gone awry. One image depicts a man walking, horse at his side; another shows a second man riding into scene on horseback; lastly, the two men are shown fighting. The names "Juan" and "Jose" are scrawled on the vessel's body, but only "Juan" is on the lid above the date. "We assume the pot was made in Juan's honor," says Anthony. "We just don't know whether he won or lost the fight." That's a mystery that Anthony-and a future buyer-can live with. In fact, it's part of the vessel's allure. "The exciting thing for me is always when new stuff comes in," he says. "But I certainly enjoy what I have on display here."
by Ben Ikenson
Santa Fean Magazine, Aug-Sep 2022 (this link will download the interview insert from the magazine)