Four-Color Acoma Pueblo Jar by Lilly Salvador - C4080G
Category:
Pottery
| Posted by |
Mon, Jun 18th 2018, 3:55pm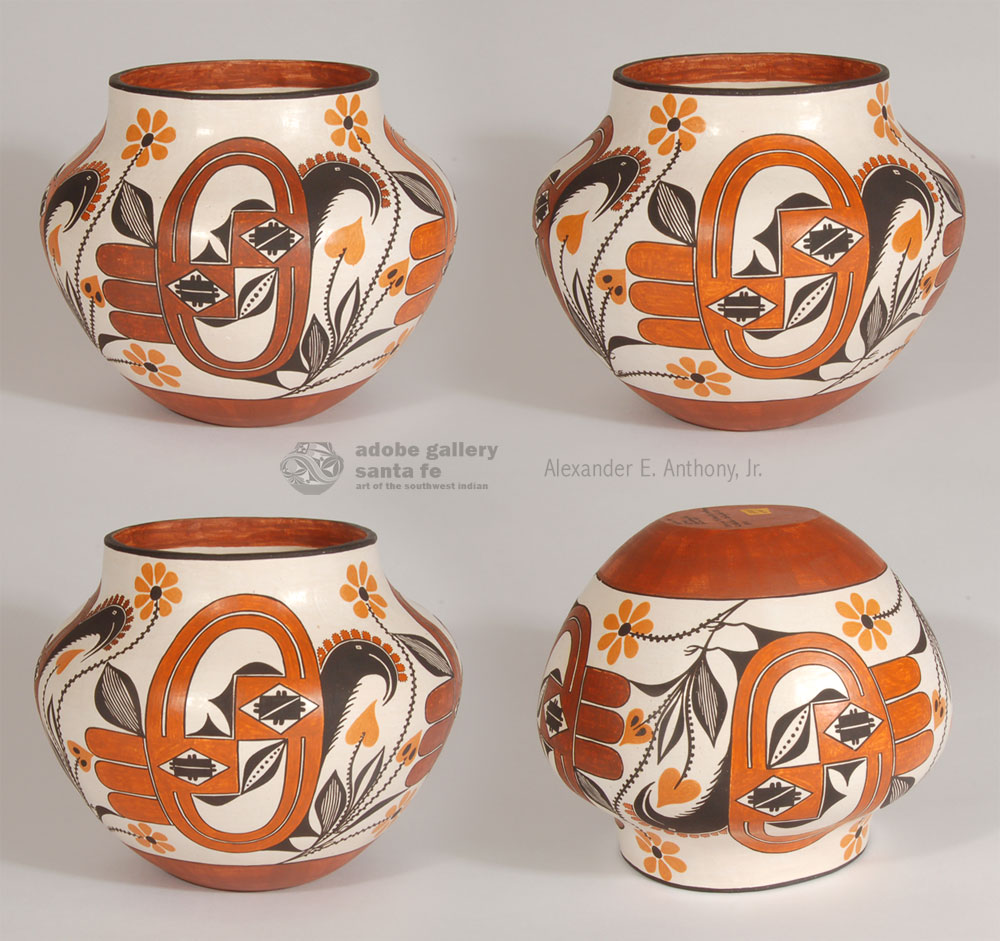 New Mexico Pueblo Indians are proud of the pottery made by their ancestors and have brought some of the early designs back to life by recreating those designs on new vessels. That is what this jar represents. Lilly M. Salvador has recreated designs from an historic Acoma jar that is in the Smithsonian which she states dates to circa 1800.
In her recreation of the Smithsonian's historic jar, Lilly Salvador provides us with a look at what must be an amazing 19th century vessel. Each of the four birds is unique in presentation from contemporary Acoma birds, which are generally more realistic parrot representations. The birds on this jar have a wonderful body-oval in shape, dual wide bands, and horizontal black elements within. The black heads of the birds resemble those of parrots, yet differ in style. The head feathers are orange with black dots outlining their edges. Two of the birds are presented in orange color and two in a darker rust color. Between each bird is a floral plant that is in bloom. The rim is black and the underbody is in traditional Acoma deep red. The bottom is flat.

#adobegallery #SouthwestIndianPottery #AcomaPueblo #AcomaPottery #PuebloPottery #SouthwestIndianArt #SantaFePottery #FinePuebloPottery #ContemporaryPottery #LillySalvador