Historic Acoma Pueblo Very Large Black-on-white Wedding Vessel - C3969J
Category:
Pottery
| Posted by |
Thu, Apr 26th 2018, 2:35pm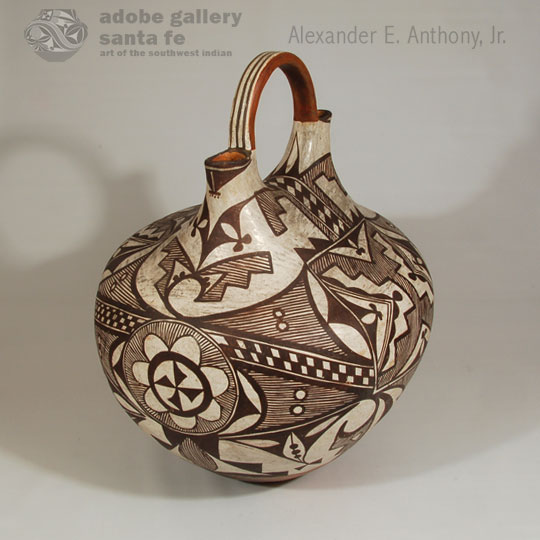 Although the wedding vessel has prehistoric precedents, it does not seem to have been made at Acoma Pueblo prior to 1900. The very comprehensive 623-page book on Acoma Pueblo pottery by Harlow and Lanmon does not display a single wedding vessel. Historic photographs reproduced in that book do not show wedding vessels either. Rick Dillingham, in his book on Acoma pottery, hints at the impetus for potters making wedding vessels as probably dealers, who saw a market for something that could be explained as a ceremonial item used in weddings. Double-spouted prehistoric and pre-Columbian vessels are not referred to as wedding vessels. Most likely, we can credit Santa Fe merchants for influencing the creation of today's wedding vessels.

#adobegallery #SouthwestIndianPottery #AcomaPueblo #PuebloPottery #SantaFePottery #FinePuebloPottery #SantaFeNM #HistoricPottery