Historic Fine and Exuberant Zia Pueblo Jar with Zuni Designs - C3924N
Category:
Pottery
| Posted by |
Tue, Aug 8th 2017, 3:30pm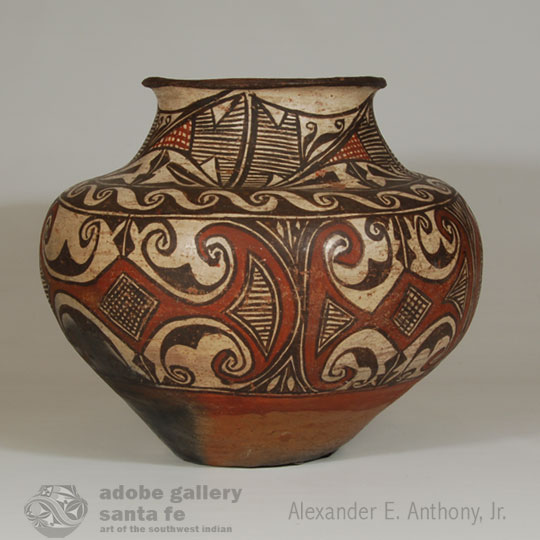 Zia potters have been consistent in producing beautiful and strong pottery vessels, both for use in their homes and for sale to tourists. Potters, today, still prefer to use ollas for water as the porous jars allow for seepage through the walls which cools the water. The clay sweetens the taste of water.
Traditional shapes and decorative style have changed very little at Zia since the 1700s. Tradition is hard to break.
One must wonder why a potter, around 1890, would make a jar that resembles the shape of those made by the Tewa potters and then place on it designs that obviously are of Zuni origin. There is nothing to make one think this is a Zia jar, except for the tell-tale sign of basalt temper. It is strikingly beautiful and certainly a work of art by a talented and creative potter. If only we knew who she was or what made her depart from the traditions of Zia to create such a beautiful jar!
Would like to purchase or read more about this Zia Pueblo pottery?