Historic Four-color Polychrome Olla from Zia Pueblo - C3328B
Category:
Pottery
| Posted by |
Tue, Aug 8th 2017, 3:17pm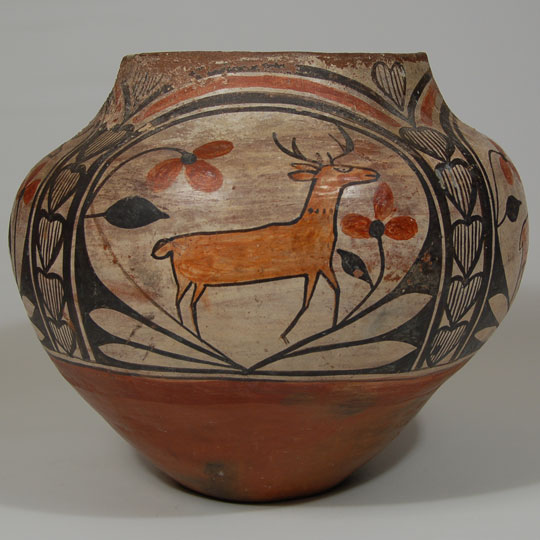 There is precedence for picturing animals on pueblo pottery-namely the Mimbres, in the 1100s, featured insects, fish, birds, and large and small animals primarily on the interior of bowls. There was then a large time span before animals appeared again, this time in the late-1800s on Zuni Pueblo pottery in the form of heartline deer figures. It could be that this inspired potters to paint deer on Zia Pueblo pottery. According to Harlow and Lanmon, the earliest documented Zia pottery with deer designs is 1870s.
This jar is probably from the first quarter of the 20th century. The design is divided into four quadrants, each of which contains basically the same design. There is an orange colored deer outlined in black. The deer is housed in an arch similar to that seen on Zuni pottery. There is what may be a rainbow arch above the deer house, flowers inside with the deer and black outlined hearts separating the four quadrants. Each heart is filled with parallel vertical black lines.
Would like to purchase or read more about this Zia Pueblo pottery?