Historic Laguna Pueblo Handled Bowl with Printed Text - C4078C
Category:
Pottery
| Posted by |
Thu, Jun 7th 2018, 1:45pm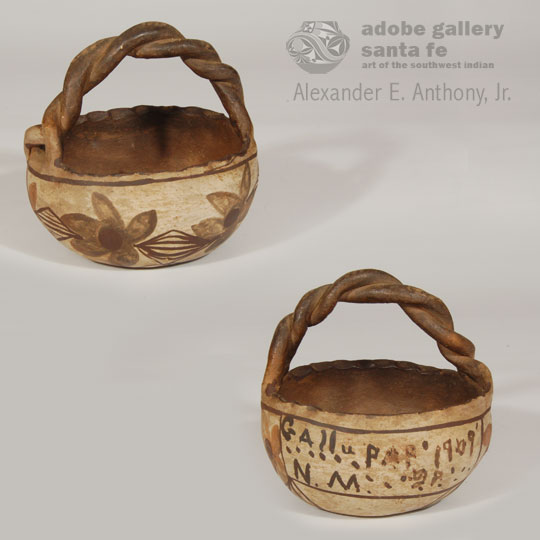 What happened in Gallup, New Mexico, on April 28, 1909? Apparently it was an important enough event to cause a Laguna Pueblo potter to memorialize that date on this pottery bowl. It is possible that it was a tragic event involving a Laguna Pueblo member or family. Perhaps, too, it was a joyful event that involved a Laguna member. Let's hope it was the latter.
This bowl is a good example to explain where so many similar twisted-handle bowls at Isleta Pueblo had their beginnings. This type bowl was typical at Laguna Pueblo. When members of Laguna Pueblo migrated to Isleta Pueblo in 1879 they took with them their pottery styles and designs which were then adopted by Isleta potters and eventually replaced what was then traditional Isleta pottery style. The Laguna polychrome pottery style then became what we know today as the Isleta polychrome style.
This bowl, however, is from Laguna and not from Isleta. It was made with Laguna clay and has the traditional Laguna chain-like line of flowers. It is a four-color bowl with that deep red color seen at Acoma and Laguna in the late 1800s and very early 1900s.

#adobegallery #SouthwestIndianPottery #LagunaPueblo #LagunaPottery #PuebloPottery #SouthwestIndianArt #SantaFePottery #FinePuebloPottery #HistoricPottery