Historic Ohkay Owingeh Pueblo Red over Tan Dough Bowl - 26103
Category:
Pottery
| Posted by |
Fri, Jun 29th 2018, 2:43pm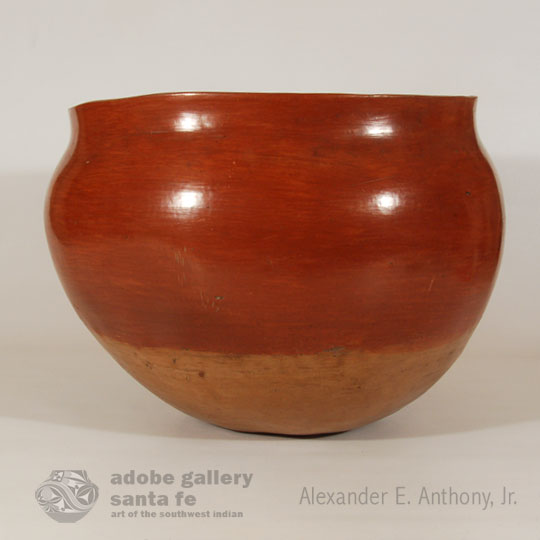 This vessel might be called a dough bowl or a storage jar, depending on its use. It is typical of traditional San Juan Pueblo (now known as Ohkay Owingeh) Red-on-tan typology and dates from c1900. The upper two-thirds of the vessel is covered in highly stone-polished red slip over the basic tan vessel and the lower third remains a stone-polished natural clay body. The interior was stone polished to the natural tan clay body to act as sealant of the natural clay.
The vessel was fired outdoors, but is devoid of any fire clouds. The walls flare outward just so slightly and upward, then curve inward before rolling out again just slightly at the neck. The bowl has a beautiful globular shape with the widest diameter just above midpoint and a short graceful outwardly curving neck.

#adobegallery #SouthwestIndianPottery #OhkayOwingehPueblo #OhkayOwingehPottery #PuebloPottery #SouthwestIndianArt #SantaFePottery #FinePuebloPottery #HistoricPottery