Historic Ohkay Owingeh (San Juan) Pueblo Small Serving Bowl - C4078B
Category:
Pottery
| Posted by |
Thu, Jun 14th 2018, 3:45pm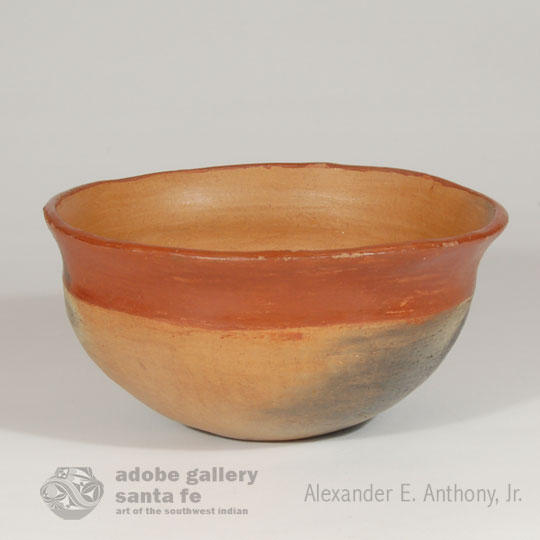 Ohkay Owingeh Pueblo, formerly known as San Juan Pueblo, has a significant history in relation to New Mexico. In 1598 the new Spanish settlement near this pueblo was made the first capital of the New Mexico province of New Spain by Juan de Oñate. It is 25 miles north of Santa Fe, which replaced it as the capital when founded in 1608.
San Juan Pueblo was the northern terminus of the Camino Real de Tierra Adentro, an important historic trail from Mexico City used by settlers and traders from 1598 to 1884. San Juan Pueblo was also the home of Popé, the leader of the Pueblo Revolt of 1680 against the Spanish. In 2005, San Juan Pueblo went back to its pre-Spanish name Ohkay Owingeh.
This bowl is of the pre-revival style that was traditional to the pueblo before the 1935 style change. The bowl was stone-polished on the interior and exterior. Red slip was applied to the exterior of the rim. The underbody of the vessel was then allowed to receive fire clouds during the firing process-the only decoration of such pottery. This bowl is likely from the first quarter of the 20th century.

#adobegallery #SouthwestIndianPottery #OhkayOwingehPueblo #OhkayOwingehPottery #PuebloPottery #SouthwestIndianArt #SantaFePottery #FinePuebloPottery #HistoricPottery