Historic Small Zuni Pueblo Polychrome Jar, circa 1880s - C3926E
Category:
Pottery
| Posted by |
Tue, Sep 12th 2017, 2:55pm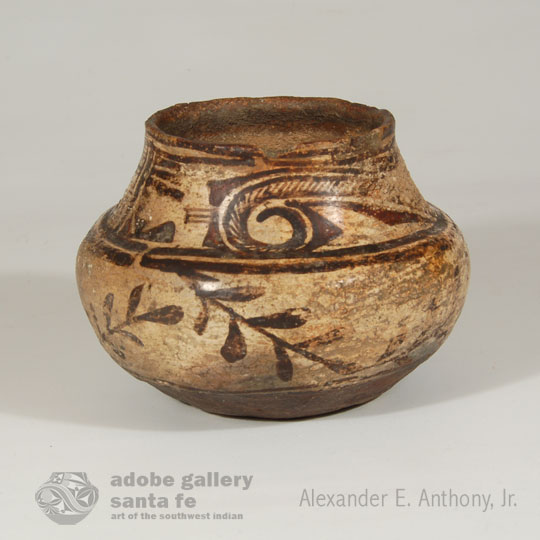 This small jar has all the attributes of its larger model. It has a puki impression line on the brown underbody, indicating that its start was in a small bowl. The underbody is concave. The body is very traditional in shape with a globular bulge, reversing to a curved neck and a slightly rolled out rim. We are dating this small jar circa 1880 due to its strong puki flexure and limited design typology.
The pottery body designs are floral elements, enclosed above and below with framing lines. The framing lines at the shoulder are wide and split with a ceremonial line break. The lower framing line is slimmer. There is a pair of framing lines just below the rim. The design on the neck is very traditionally Zuni in style-hook with fine lines and arrowhead with parallel lines.
Would you like to purchase or read more about this Zuni pottery?