Hopi Pueblo Night Dance Panorama with Kasinas by Watson Namoki - C3383ZS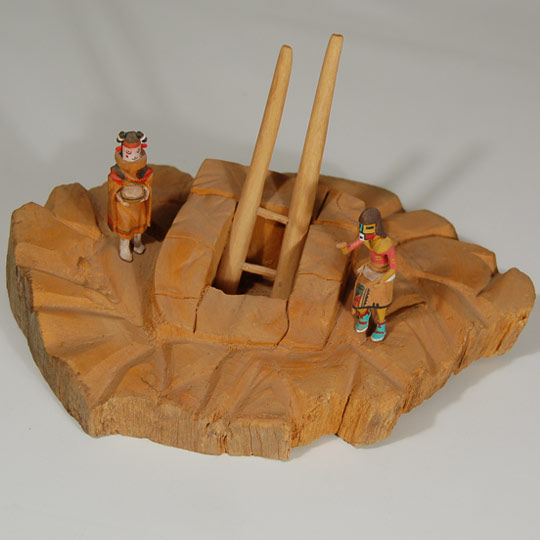 Watson Namoki has created a kiva scene with a ladder inserted from the roof top into the inside. On the roof, he placed Hahai-i Wuhti Katsina carrying a bowl of blue cornmeal and Tuma-uyi (White Chin) Katsina in a panorama of a Katsina Night Dance.
Hahai-i Wuhti is considered to be a sprightly Hopi grandmother. Whenever she appears she is usually very vocal, an attribute not common among the other katsinas. She is considered the mother of the Ogre Katsinas as well as the mother of all katsinas. Tuma-uyi Katsina is one of the very old katsinas. When he appears, he comes in a group, but can be impersonated at any time. His name means "white chin" and seems to derive from the white clay (kaolin) that is used to coat katsina dolls before they are painted.