Hopi Pueblo Wupamo Katsina - Kachina Doll - C4126C1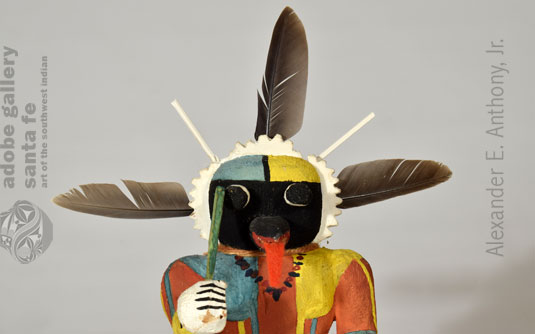 Wupamo appears on all three mesas as a guard, and the whips that he carries are for use on the unwary. Usually he may be found during the Powamu procession circling out from the sides or swinging in at the rear to spur the laggards. He moves a little more quickly than Wuyak-kuita but just as surely.
On Hopi Pueblo, First Mesa, as one of the Furious Katsinas, he is often led or rather held back by a rope around his waist that is held by a *Koyemsi. He is given to making short furious dashes towards the audience or other katsinas or kiva priests much in the manner of an erratic dog.
In addition to the Powamu he may appear in the Palȍlȍkong or help enforce community work such as spring cleaning.

#adobegallery #HopiPueblo #Katsina #Kachina #Doll #SouthwestIndianArt #PuebloArt #SantaFeNM #NativeAmericanArts