Navajo Ceremonial Basket of Traditional Design - C4091C
Category:
Baskets
| Posted by |
Mon, Jul 23rd 2018, 2:34pm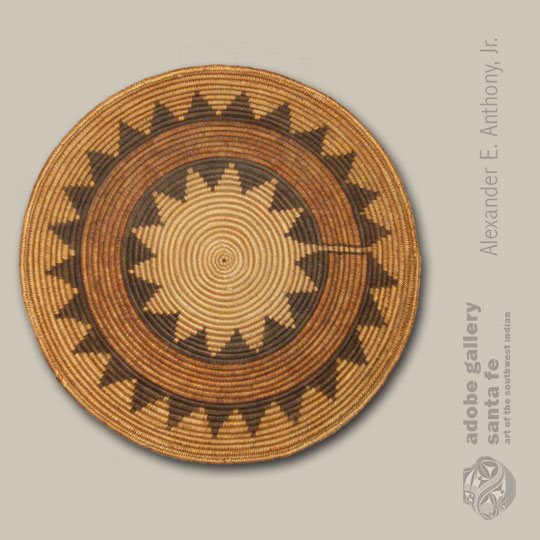 The distinctive feature of older baskets is the two-rod foundation, resulting in a finer weave and smoother walls than the later three-rod foundation. The rims are always woven in a herringbone pattern. This is a distinctive Diné characteristic that was eventually adopted by the Paiute when they started making wedding baskets for the Diné.
Navajo baskets or Ts'aa' have a number of uses. They are used ceremonially to hold prayer sticks and medicine bundles, because it is taboo for ritual objects to touch the ground. They are important for Kinaalda' ceremonies, the coming of age ceremony for young women at puberty, where they are used to hold yucca suds for ritual baths and hair washing of the young woman. They are used in wedding ceremonies to hold corn pollen and food.
The designs in Navajo baskets have significance and depending on the interpretation can symbolize the creation myth, life's journeys or be a map of the Navajo cosmos. The simplest interpretation is that the white center is the emergence area, or area of birth. The black coils represent clouds or four sacred mountains. The red band is the sun's rays which bring life. There is always a line from the center of the basket to the outer rim, a path from the center for the Spirit to come and go. The pathway meets at the outer edge where the weaver has stopped coiling.

#adobegallery #NativeAmericanBasket #SouthwestIndianBaskets #Navajo #Diné #DinéBasket #NavajoBasket #SantaFeNM