Navajo Ceremonial Basket with Unusual Outlining - C4091G
Category:
Baskets
| Posted by |
Mon, Jul 23rd 2018, 2:23pm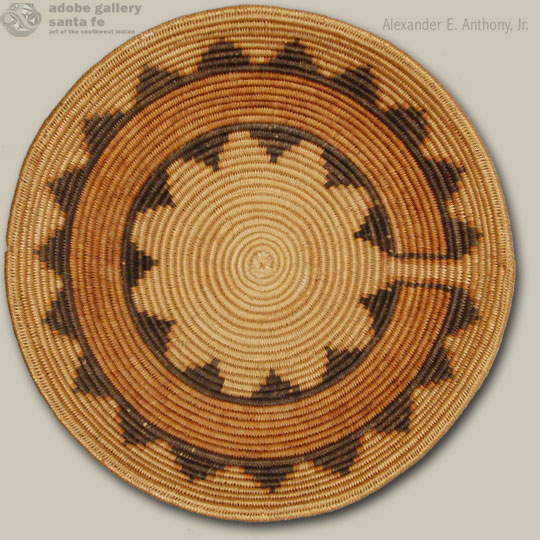 This basket was formed over a two-rod sumac foundation. Navajo baskets have been made with multiple rod foundations-three rods and even up to seven rods. Two-rod foundation baskets display thinner coils, resulting in a more symmetrical and tighter weave. Baskets with three or more rod foundation display thicker coils and are, therefore, faster to make. Generally, they are not as desirable or as exquisite looking.
This basket has the traditional Navajo wedding basket design, but the weaver took liberty to make some changes. What is normally presented as red rows have, in this basket, been replaced with a more rust color. The black triangular steps pendant to the colored bands have been outlined with the rust color, something not done in the more traditional style. Everything else seems to follow tradition.
This basket is larger than those made for a medicine man's use, therefore, it was probably made to be sold to a collector. It is quite possible that the basket maker was a traditionalist who made those mentioned changes so as not to sell a basket used in traditional ceremonies to a non-Indian.

#adobegallery #NativeAmericanBasket #SouthwestIndianBaskets #Navajo #Diné #DinéBasket #NavajoBasket #SantaFeNM