Navajo Indian Large Crystal Trading Post Floor Rug - SC3816E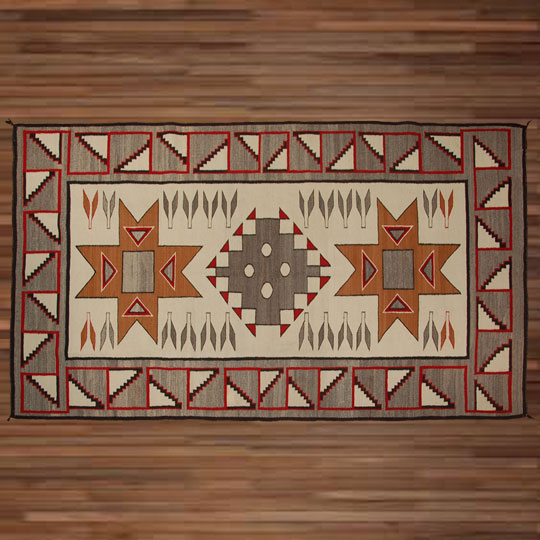 The names J. B. Moore and Crystal Trading Post go together like peanut butter and jelly. One rarely says one name without saying the other. Moore had a short tenure at Crystal Trading Post but his legacy lived on for many years. He had arrived there in 1897 and departed in 1911.
Moore determined to improve the quality of wool used in rugs by having it cleaned and dyed under his wife's supervision. For even better quality, he sent wool to a commercial scouring plant for preparation. Additionally, he strived to have the weavers make rugs that were marketable, rugs based on patterns that potential buyers would associate with their thoughts of how a rug should look.
Navajo weavers were making traditional blankets at that time which were devoid of borders. Moore wanted borders on the weavings so they would look more like rugs rather than blankets. The weavers found it difficult to add a border around all four sides of a weaving. The superstitious women were not comfortable enclosing their designs within a border from which their talent could not escape allowing for another rug to be made later. Whether Moore suggested it or whether the women implemented it by themselves, the weaver's pathway-a single strand of yarn from the inner part of the rug through the border-was developed. There was precedent for such as all Navajo ceremonial baskets had a break in the bands of design to allow for talent of the weaver to be freed.