Navajo Silver and Turquoise Stone Bracelet with Scallop Edges - C4069A
Category:
Jewelry
| Posted by |
Mon, May 28th 2018, 3:36pm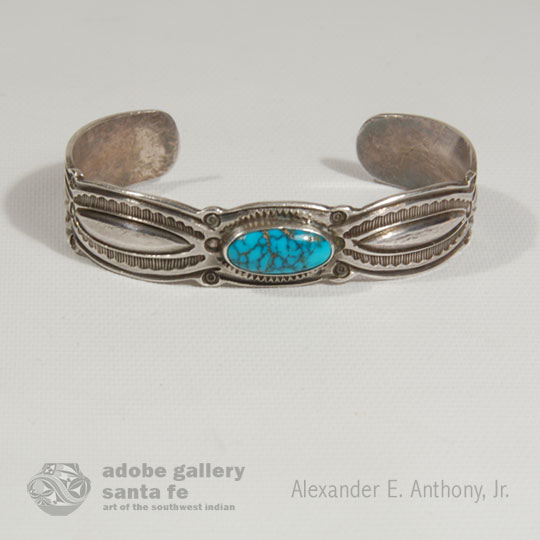 An elongated piece of high grade spiderweb turquoise rests on a band of sterling silver which has been decorated with repoussé domes. The repoussé technique requires the artist to work on the reverse side of the metal to form a raised design on the front. On this bracelet the raised ovals are framed with intricate sets of stampwork which accentuate the scalloped shape of the bracelet.
As is customary in Diné silverwork, the silver setting serves as a frame to accent the beauty of a single piece of turquoise. The center turquoise cabochon in this bracelet is robin's egg blue with a beautiful matrix. The piece was made in the mid-20th century, but is not a tourist piece, as the silver is more substantial than what was used in a typical Fred Harvey souvenir. The unsigned bracelet was created by an unknown, but highly skilled, silversmith.

#adobegallery #SouthwestIndianJewelry #Navajo #NavajoNation #Silver #Turquoise #Jewelry #SantaFeNM #NavajoJewelry