Navajo Sterling Silver Bracelet with Five Bands by Jonathan Mike - C4057C
Category:
Jewelry
| Posted by |
Fri, Apr 13th 2018, 2:20pm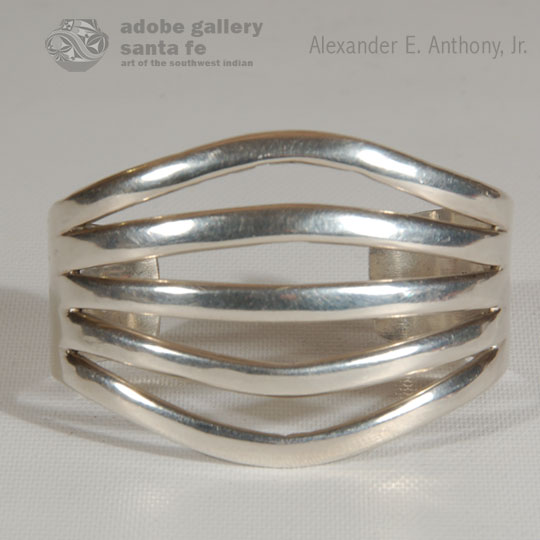 The elegant, modern style called "Navajo Modernism" had its roots at the White Hogan Gallery in Scottsdale, Arizona, beginning in the 1950s. The gallery was owned and operated by Virginia and John Bonnell. The Bonnells hired innovative artists like Kenneth Begay and Allen Kee who developed a unique look that was influenced by the work of Georg Jensen and Danish Modernism. Characterized by smooth, clean lines, the work had a sleek, sensuous appeal. The artists blended traditional Navajo designs into their work creating a distinctive look that continues to influence Navajo jewelers today. As the fabrication of jewelry associated with White Hogan Gallery required great skill, and only the very best artists worked at the White Hogan.
To purchase or read more click here..
#adobegallery #SouthwestIndianJewelry #Navajo #Diné #Silver #Jewelry #SantaFeNM #NavajoJewelry #SantaFeJewelry #JonathanMike