Ohkay Owingeh (San Juan) Pueblo Large Bowl with Red Rim - C4068Y
Category:
Pottery
| Posted by |
Tue, Aug 14th 2018, 4:46pm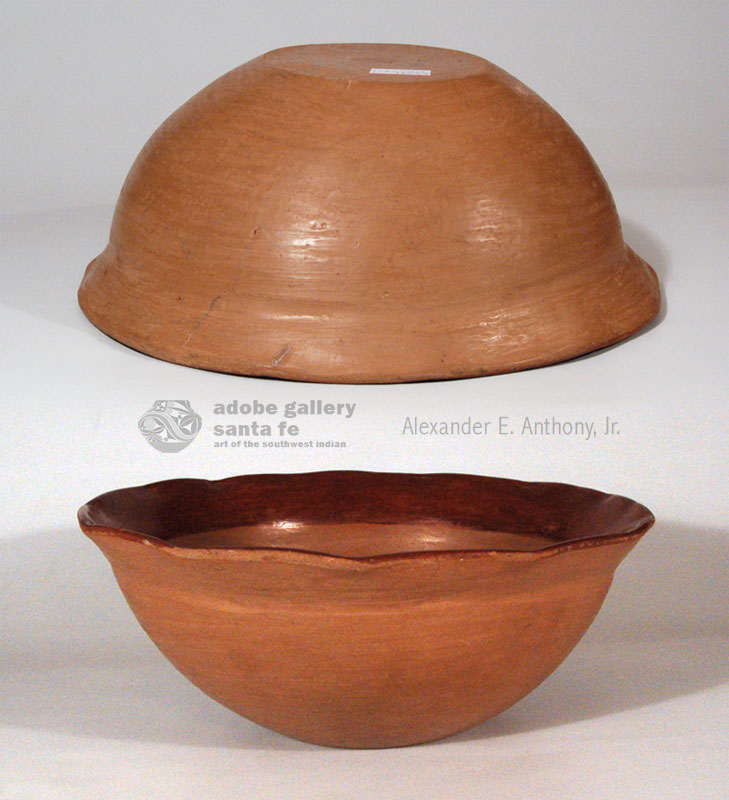 The beauty of Ohkay Owingeh pottery is its simplicity. The shape of the vessel is the dominant visual stimulation, not being overrun by painted design. The deep red slip that overlays the tan clay is traditional to all earlier bowls and jars. When the stone-polished vessel is fired in the traditional manner, there are usually beautiful fire clouds on the vessel wall, however, this bowl does not have fire clouds.
According to Batkin¹, pottery making at San Juan (Ohkay Owingeh) Pueblo almost died out by 1900 except for an occasional piece made for household use or for sale or trade. There was a revival in the 1930s but it was of a different style.
This bowl possibly dates to the early twentieth century but the lack of fire clouds and lack of indications of use would make one think it was made later and was made for sale, not for use at the pueblo.

#adobegallery #SouthwestIndianPottery # OhkayOwingehPueblo #OhkayOwingehPottery #PuebloPottery #SouthwestIndianArt #FinePuebloPottery #HistoricPottery #IndianMarket #sfim2018 #NativeAmericanArts