Penitente Carved Cedar Death Cart by Albert L. Martinez - C3799B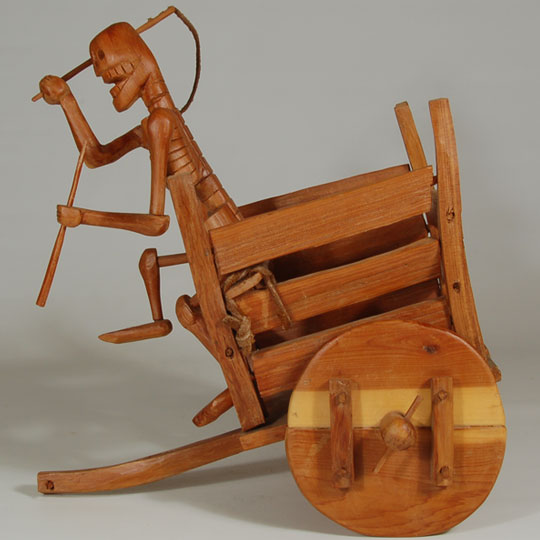 In the 17th Century, what is now known as New Mexico was considered to be the northern frontier of Mexico. Separated by extreme time and distance, this land was considered to be remote even by 17th Century standards. The church in Mexico basically ignored the northern frontier and as a result the local people developed their own way of celebrating the birth and death of Christ. A group that is referred to today as the Penitentes took over the task of caring for the spiritual needs of the villages of Nuevo Mexico.
One important aspect of the many duties of the Penitentes was to celebrate the Passion of Christ during Holy Week. Death carts, with the figure of La Muerte, or Doña Sebastiana, appeared in processions during Holy Week. A member of the Penitente brotherhood would drag the heavy cart from the Morada, or meeting place, to the Calvario, or symbolic Calvary, atop a nearby hill. The carts represented the ever-looming specter of Death and reminded people of the miracle of Christ's triumph over death. It was also a reminder to the faithful that death is ever-present, and of the importance of leading a virtuous life in order to enter the kingdom of heaven.