San Ildefonso Polychrome Nineteenth Century Masterpiece - C4068G
Category:
Pottery
| Posted by |
Wed, Jun 20th 2018, 4:52pm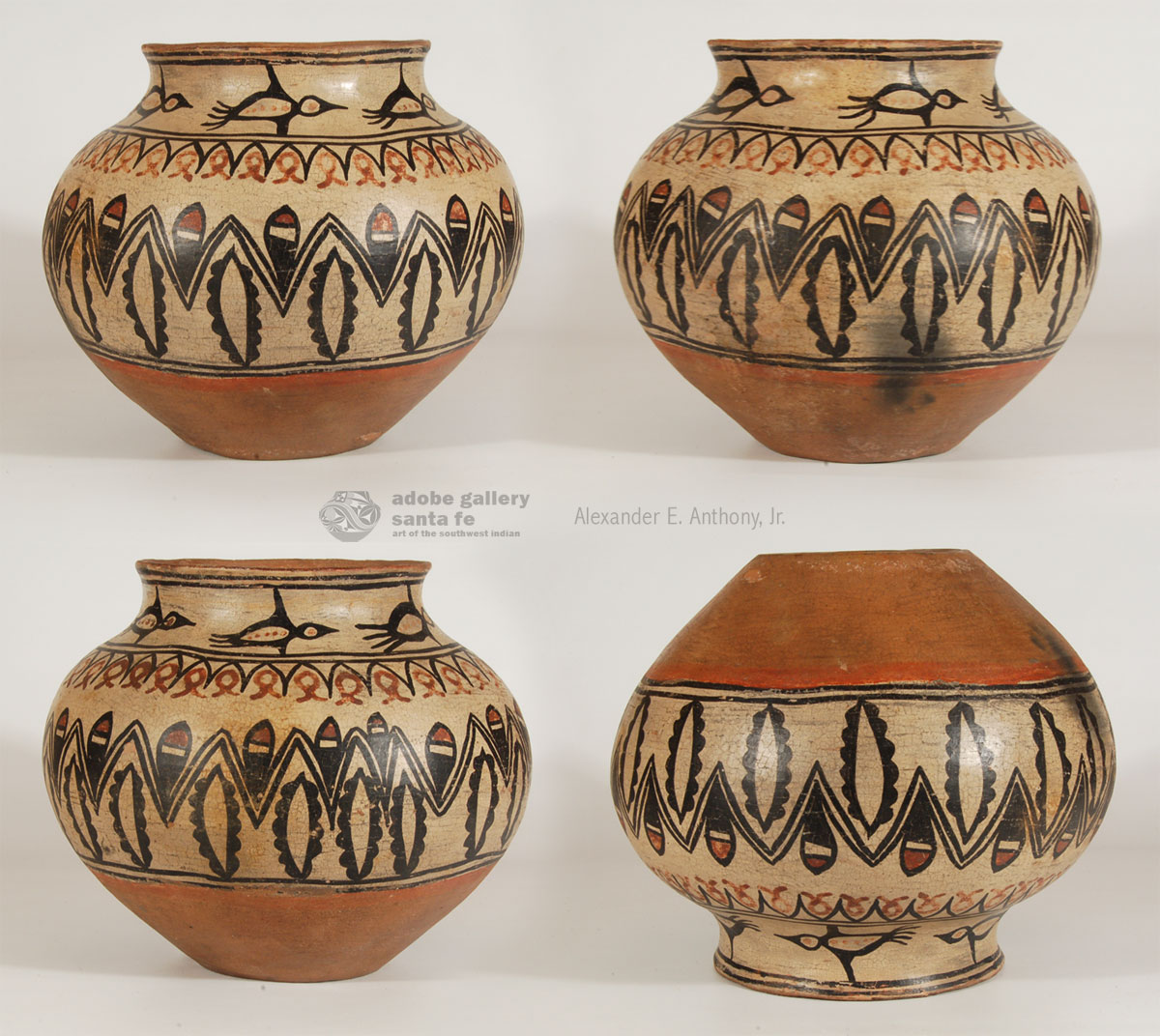 San Ildefonso Polychrome pottery differs from it predecessor pottery typology known as Powhoge Polychrome-one difference being the addition of red in the design. Shapes also changed, as did design elements. The globular shape of Powhoge Polychrome gave way to a revival of the eighteenth-century olla shape.
In the late 1800s, there was a trend to stop using red paint on the rim and to use black. Around 1905, San Ildefonso Pueblo potters adopted the use of a bentonite slip being used by Cochiti Pueblo potters, the difference being that San Ildefonso traditional slip required stone polishing and Cochiti slip required only rag polishing. All of these factors aid in establishing a date for the older, historic pottery.
This jar has the round and globular shape of a Powhoge Polychrome jar, stone polished slip, and red rim paint. It is conceivable to assign a date of 1880s to this jar.
The extraordinary design must have taken a considerable amount of time for the potter to design and apply. It is by far the most comprehensive design the artist could have conceived. If one starts an analysis on the paired black zigzag lines at the mid-body and proceeds downward, there are oval elements of connected semicircles painted black. Above the zigzag lines there are nestled into each depression single black outlined teardrop designs in red, white and black.

#adobegallery #SouthwestIndianPottery #SanIldefonsoPueblo #SanIldefonsoPottery #PuebloPottery #SouthwestIndianArt #SantaFePottery #FinePuebloPottery #HistoricPottery